BUSINESS GIFTS WILL NEVER BE THE SAME
Now the magic of Flexbook note-taking comes in the perfect gift box,
with the signature of "k2design", Greece's multi awarded design firm,
comprising:
› A top quality box made to last, which can be used
by the consumer for future storage.
› A prestigious ruled Flexbook notebook 13x21cm offering the unique Flexbook binding
that guarantees it will last virtually forever. Flexbook notebooks are made of Fedrigoni (cover)
and Fabriano (body) paper qualities, which are amongst the best in the world.
› A refillable all metal ball pen by the famous Swiss manufacturer Premec.
› A well-designed greetings card.
FlexBox comes in 2 different designs:
"Embrace me" & "All Angles"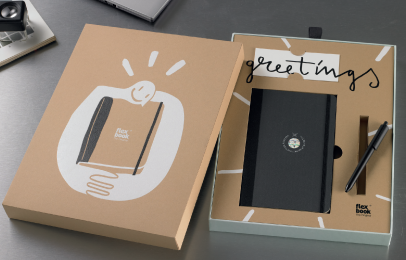 EMBRACE ME
The "Embrace me" design has a friendly huggy feel
to it that describes the experience of holding and
using Flexbook notebooks.
90.00004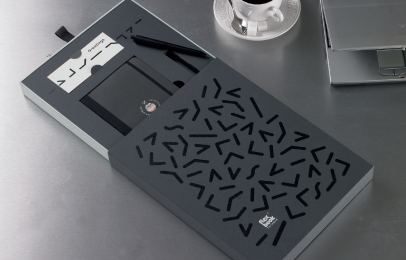 ALL ANGLES
The "All Angles" design graphically illustrates the
flexibility of Flexbook notebooks by making the
different opening angles a design element.
90.00005
TECHNICAL DETAILS

a) FlexBox
Dimensions: 35cm (L) x 26,4cm (W) x 3,8cm (H)

b) Flexbook notebook with elastic band
and rounded corners
This is an original Flexbook technology product. All genuine Flexbook
binding products have the holographic label. Innovation patented.
192 ruled pages – 13x21cm / 5,12x8,27in
Fabriano Ivory paper 85g/m2 (FSC, Elemental Chlorine Free, Acid Free,
Heavy Metal Absence, Biodegradable and Recyclable)
Cover: Fedrigoni board (FSC, Cotton, Elemental Chlorine Free, Acid Free,
Heavy Metal Absence, Biodegradable and Recyclable

c) Metallic Pen:
› Premec Ball Pen
› All metal
› Writes 5km (approx.)
› Refillable
---