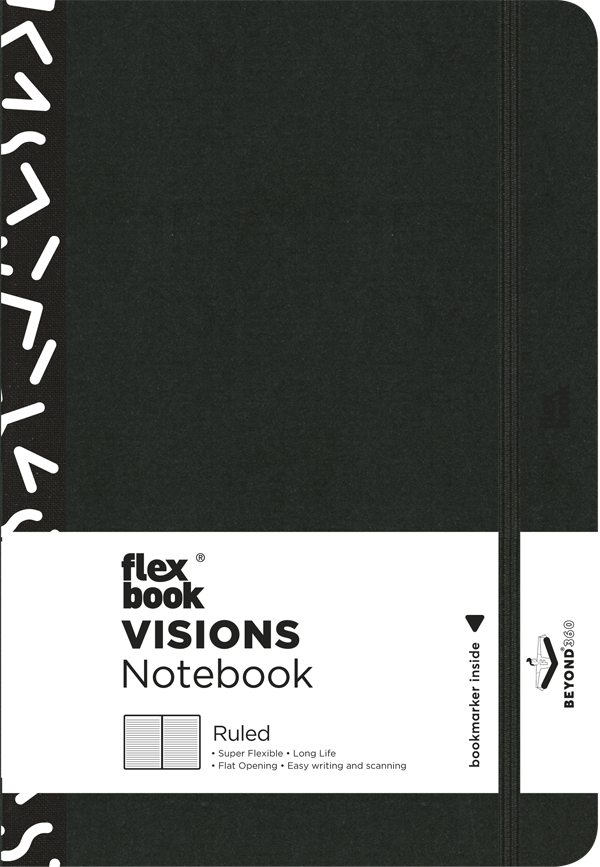 WHEN YOUR NOTEBOOK SPINE BECOMES A CREATIVE CANVAS
Who said that the classic Flexbook spine would never change?
You are witnessing a peaceful design revolution that is supposed to change the unchangeable.
Presenting our new Visions line which comes with a new spine carrying the pattern of flying angles in timeless explosion. Resembling the moving of matter in a gigantic universal kaleidoscope, it paints a different picture of the new flexibility and mobility in the modern urban cosmos.
Our Visions notebooks collection offers Flexbook spines of black background with white angle symbols, which come in 2 sizes: 13x21cm and 9x14cm. Their quality design elements include Fedrigoni black special art paper covers, a pocket and a FLEXme bookmarker.
FEATURES
› Flexbook with elastic band closure
› Specially designed spine of black background
with white symbols
› Fedrigoni special black art paper cover
› 192 ruled pages
› Fabriano ivory paper 85 gsm
› Inner paper pocket
› Black embossing
› Rounded corners
› FLEXme bookmarker
› Includes 10-fold brochure with Flexbook history in 6 languages

All genuine Flexbook binding products have the holographic label.
Innovation patented.