ECOSMILES
A smile for the planet
FROM CREATIVE UPCYCLING OF AGRICULTURAL RESIDUE
Life returns to the city by replacing materials that pose a problem for the survival of our host world with new natural materials. Ecosmiles is the name of our wonderful eco notebooks, which bring a smile for our planet. With covers made from real coffee beans, kiwi, olive, cherry and citrus interiors they have already become a total hit because they give us all the opportunity to do something about climate change ourselves. Today we are introducing two new favourites that will infuse our line with delightful colour and a natural sensation: lavender and almond. Ecosmiles are produced from the superb eco paper line Crush, a new product launched by the Italian paper manufacturer Favini, which comes from the creative upcycling of agricultural residue by replacing up to 15% the virgin tree pulp. Crush paper includes by-products from citrus fruits, grapes, cherries, lavender, corn, olives, coffee, kiwi fruits, hazelnuts and almonds. These natural raw materials are saved from landfill and used to produce these distinctive papers making better use of natural resources and minimizing as much as possible the use of paper from tree pulp. Crush is biodegradable, produced with EKO energy, GMO free, Acid free, Elemental Chlorine Free (ECF), Carbon black free, resulting in a 20% reduction in carbon footprint.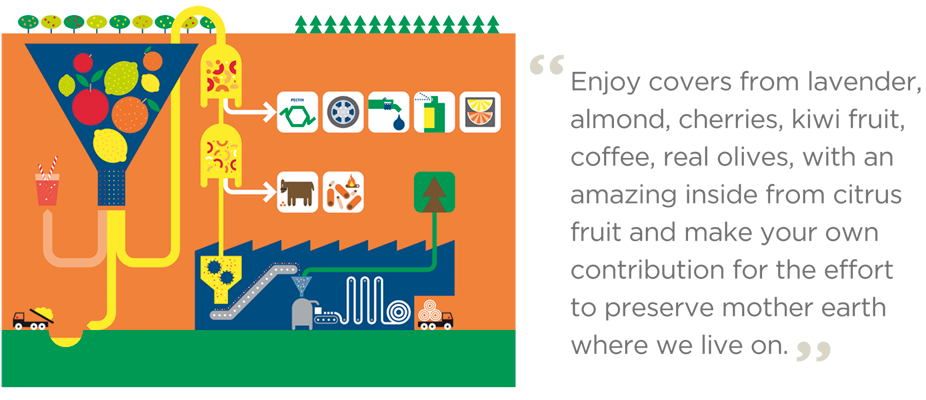 FEATURES
› Flexbook with elastic band closure
› Cover from Favini Crush ECO paper from natural materials (lavender, almond, coffee, kiwi, cherry, olive)
› Flyleaf from Favini Crush ECO coffee paper
› 192 ruled pages
› Favini Crush ECO citrus paper 100 gsm
› Black embossing
› Rounded corners
› ECOSMILES promo card
› Themed ECOSMILES paperband
› Includes 10-fold brochure with Flexbook history in 6 languages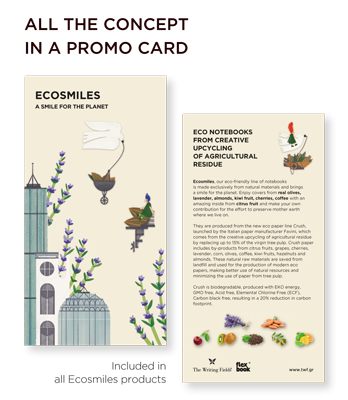 All genuine Flexbook binding products have the holographic label.
Innovation patented.

---
COLOURS

Lavender

Almond

Coffee

Kiwi

Cherry

Olive
---
RETAIL PRODUCT