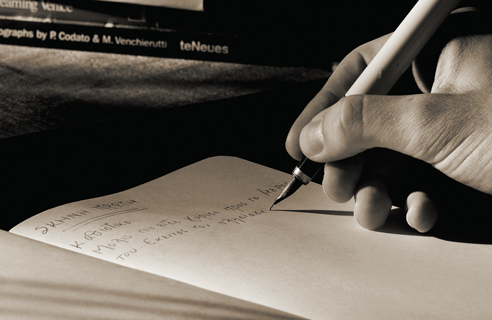 SEARCHING FOR TRUE VALUES
WHO WE ARE
Welcome to our journey into the magical world of note-taking, where anything could happen, even the unimaginable. Our fascinating story begins on the day writing was invented and continues until the day Flexbook, a revolutionary innovation in bookbinding was established as a brand, which is now made available in more than 35 countries around the world.
It all started in Athens in 1960, when Theodoros Chasapakis, a bookbinding artist, was first involved with special editions and handcrafted books. In 1994, the company was passed on to the new generation, Grigoria and Dimitris Chasapakis, who brought in their own new perspective.
Meanwhile, after 2 years of research and decades of experience across the entire spectrum of bookbinding technologies the company invented Flexbook, a new bookbinding method, which makes books, notebooks and diaries incredibly durable and flexible.
This method, with its emphasis on materials, design, and innovation, was indeed so unique that it quickly gathered enthusiastic followers internationally. Since then the evolution of the company has been extremely rapid and very soon it was able to offer a range of unique products covering the areas of note taking and business gift.
Τoday, uniting our voice with the voice of people around the world who seek values not just produce, we support the sustainability of our planet with a commitment to participate, in every possible way, to a big change towards this direction.